Dive into the essence of nature's best with Bronte Body's anti-inflammatory Pure Oil, a meticulously crafted blend that brings the wonders of Golden Hemp Seed Oil, Kawakawa infused hemp seed oil, and Vitamin E to your skincare regime.
Regular price
Sale price
$34.00 NZD
Unit price
per
Sale
Sold out
What's Inside

🌿 Golden Hemp Seed Oil: Unlock the magic of this
superfood that offers deep hydration without the greasiness. Rich in essential fatty acids and antioxidants, it not only moisturizes but also balances oil production, making it a boon for both dry and oily skin types.

🍃 Kawakawa Infused Hemp Seed Oil: Sourced from the pristine landscapes of New Zealand, Kawakawa is a traditional remedy revered for its healing properties. Infused with hemp seed oil, it calms inflammation, reduces redness, and rejuvenates damaged skin. Experience the soothing embrace of nature with every drop.

🌟 Vitamin E: Shield your skin with the protective embrace of Vitamin E. As a potent antioxidant, it fights off environmental aggressors like UV rays and pollution. Its reparative properties breathe life into your skin, ensuring it remains soft, youthful, and resilient.
How to Use

This multi-functional oil can be used as a healing oil, face serum, makeup remover, beard oil or hair oil on dry and oily skin. Apply lightly and use daily (or 3 times/day) for best results. Patch test before use.
Ingredients

Cannabis Sativa (cold-pressed golden Hemp) Seed Oil*, Macropiper excelsum (Kawakawa)* infused Cannabis Sativa (golden Hemp) Seed Oil,
Tocopherols (Natural Vitamin E) *grown in New Zealand.

✅100% natural with predominantly New Zealand ingredients
✅Proudly formulated and hand-crafted in small batches in New Zealand
✅Vegan and cruelty-free
✅Free of nasties, harsh chemicals, and palm oil

Oil comes in a 100ml glass bottle with dropper.
Why its special

Bronte Body's Pure Healing Oil uniquely combines the hydrating prowess of Golden Hemp Seed Oil, the traditional medicinal benefits of New Zealand's Kawakawa, and the antioxidant-rich properties of Vitamin E.
This fusion not only offers deep moisturization but also soothes
inflammation, making it an all-natural remedy for various skin concerns, from everyday hydration to conditions like eczema and psoriasis. Its
eco-friendly packaging further cements its commitment to both skin health and environmental sustainability.


All-Natural Blend: No parabens, no sulfates. Just the pure goodness of nature.


Versatile Use: Ideal for conditions like eczema, psoriasis, (razor) rashes, and scars or simply as a daily moisturizer.


Save for Anybody: All skin types including and save for highly sensitive skin, babies and pregnant women.


Eco-Friendly Packaging: Because we care for Mother Earth as much as we care for your skin.

Discover the transformative power of nature. With each application, Bronte Body's Pure Healing Oil pampers your skin, leaving it feeling revitalized, nourished, and radiant. Elevate your skincare routine. Order now and let your skin experience pure healing.
Share
View full details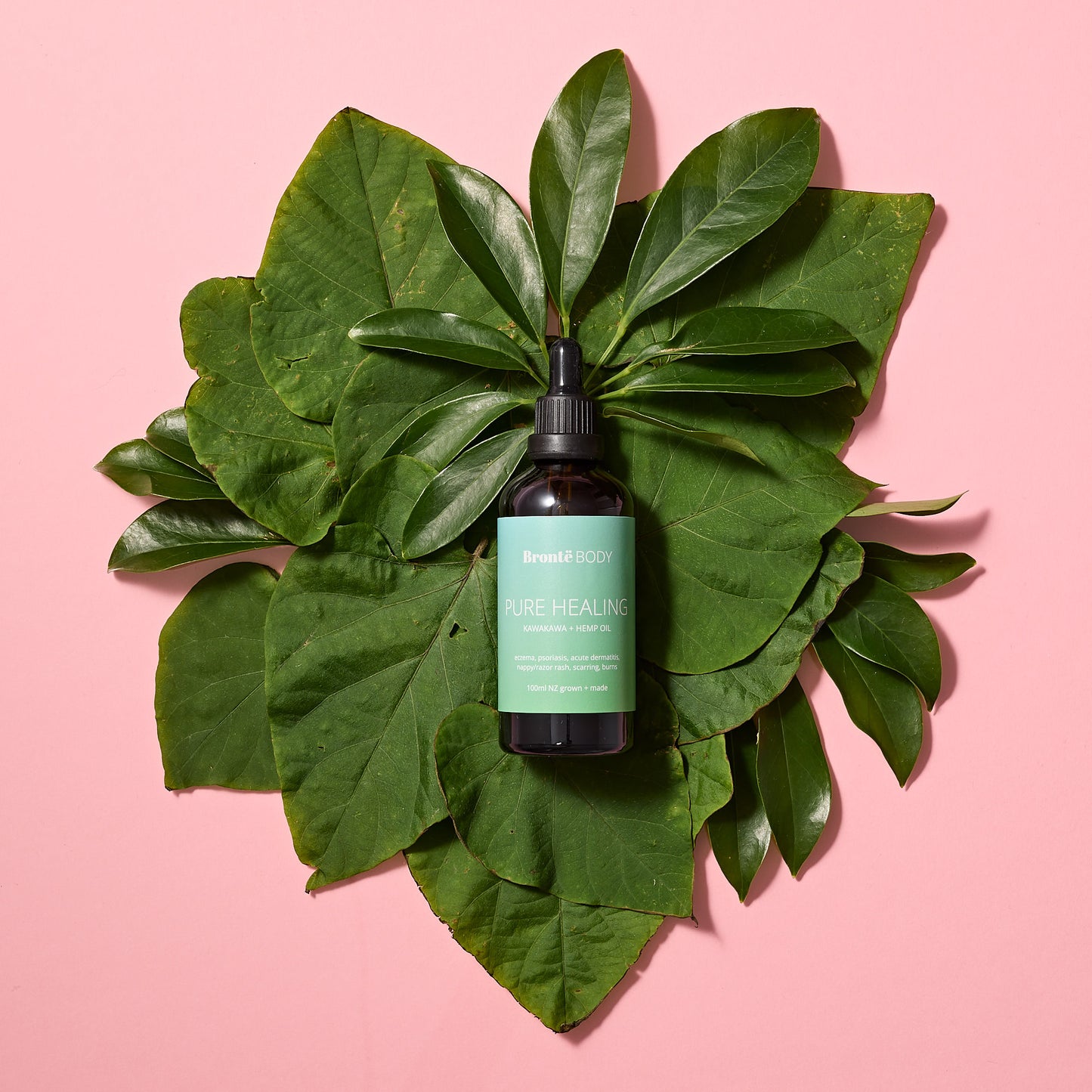 "Each product is filled with not only some of the best botanicals but a little bit of happiness and kindness too."
Frequently asked questions